Special Announcement
Our Saviour Lutheran Church will reopen on Sunday, June 7. For more information, please call our pastor, Guy Purdue, at 734.834.0139 or email at revguypurdue@yahoo.com.


Services on June 7 and June 21 will be at 10:30, 11:00, and 11:30 am. The Lord's Supper will be celebrated. We give the Lord's Supper only to members of our congregation or of other congregations affiliated with the Wisconsin Evangelical Lutheran Synod (WELS). For more information on how you can become eligible for Communion at our church, please contact our pastor.


Monday night Bible study will begin June 8 from 7:00 to 8:00 pm, with an eight-week study of the book of Revelation. Wednesday morning Bible study will resume June 10 from 10:00 to 11:00 am, looking at the book of Psalms.


Join us for worship on Sunday, June 14 at 10:30 am. Our sermon that day will be, "The Bible has one job." Our sermon on June 28 at 10:30 am will be, "The God who gave up his dignity to save us."
About Us
Local
Our Saviour is a confessional Christian family of believers focused on spreading the good news of Jesus. Committed to being a positive influence in our community, we look forward to opportunities to serve and get to know you.
We encourage quality education for children, especially Christian education. While we don't operate a school of our own, nearby congregations do.
Elementary and Preschools
High Schools
---
Our Beliefs
We hold to the Bible, God's Word, as the ultimate authority. We also subscribe to the Lutheran Confessions that lay out the accurate teachings of God's Word. You can read more below.
---
National and Global
As members of the Wisconsin Evangelical Lutheran Synod, we're able to support other congregations and mission work all around the United States and throughout the world, so that the good news of Jesus, the Savior of the word, is shared with the world.
---
Worship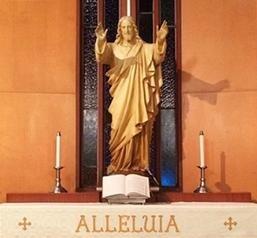 Sundays 10:30 am
What is a worship service like?

We worship God using a liturgical service. Using songs and responsive readings our service keeps the focus on the Word of God and on our Savior. Some elements repeat each week, while others change.
The sermon is based on a portion of the Bible and you will hear the truth of God's love for all people proclaimed in the sermon, as well as practical applications for your everyday life.
What's Epiphany?

We hear about "epiphany moments – those sudden "aha-s!" of life, when something we didn't "get" comes into focus for us. The great "epiphany moment" of Christianity is God's love for everyone in the world. Jesus' love isn't limited to a particular nation or ethnic group. Jesus came to be the Savior of everyone in the whole world. The Church celebrates this great truth during the Epiphany season. Come to Our Saviour Lutheran Church to hear more about God's love for you!
What's Lent?

Lent is a 40-day time of reflection on the great central truth of the Christian Faith: Jesus loves us so much that he suffered and died to take the punishment we deserve for our sin on his innocent self. During the Lenten season, some Christians choose to "give up" something. Their self-denial helps them in their spiritual devotion, by helping them to focus on Jesus' willingness to sacrifice his life for us. But the man focus of Lent is Jesus' sacrifice on the cross for us. This year Lent begins on Wednesday, February 26. We have Wednesday night services at 7:00 pm beginning on February 26 and continuing through April 1. Come to Our Saviour Lutheran Church to hear more about God's love for you!
Easter for Kids – Saturday, April 4, 2020 – 10 am to 12 noon

It's exciting to look into the face of a child who has just opened an Easter egg filled with chocolate treats! It's even more exciting to know and to trust that Jesus Christ's tomb is empty! It's empty because he kept his great promise to rise again after he died on the cross for us. Jesus' resurrection is proof positive that he is our Savior from sin, and that we can trust everything he says about himself and everything he promises to those who trust in him. We want to share this wonderful excitement with you and your family. Please come to our free "Easter for Kids" event on Saturday, April 4 at 10:00 am. We'll start the morning by hearing what the Bible says about Jesus' death and resurrection. We'll bake (and eat!) Easter "empty tomb" cookies. We'll finish off our morning with an Easter egg hunt on our church lawn. We invite all children from age four up! For more information, please call our pastor at (734) 834-0139 or email the pastor at revguypurdue@yahoo.com.
Holy Week Schedule

Holy Week is the culmination of the Church's Lenten remembrance. Spiritually we follow Jesus to Jerusalem. We watch in faith as Jesus rides into the city on "Palm" Sunday; institutes the Lord's Supper and washes his disciples' feet on "Holy" Thursday; dies on the cross for us on "Good" Friday; and rises from the dead on Easter Sunday. Come to Our Saviour Lutheran Church to hear more about God's love for you!

Sunday, April 5 at 10:30 am Palm Sunday Worship
Thursday, April 9 at 7:00 pm Holy Thursday Worship
Friday, April 10 at 1:00 pm Good Friday Service of the Seven Words
Friday, April 10 at 7:00 pm Service of Shadows
Sunday, April 12 at 10:30 am Easter Sunday Festival Worship
Bible Studies
Today's Light

Would you like to understand the Bible better? Would you like to explore the major themes of the Bible? Would you like to have a place where you can discuss the Bible with fellow believers who are reading it along with you? Our Today's Light Bible study meets Sunday mornings from 9:30 to 10:00 am. This class is scheduled to end on Sunday, May 10, 2020.

Revelation: Testament of Hope

Revelation is the last book of the Bible. It's different from the other 65 books of the Bible. Or....is it? Join us for "Revelation: Testament of Hope." We'll see how the message of Revelation is the same as the message of the rest of the Bible: victory in Jesus Christ for believers living in a troubled and sinful world. This class is scheduled to begin Sunday, May 17, 2020 at 9:30 am.

Psalms

The Psalms are the "prayer book" of the Bible. For 3,000 years, believers have turned to the psalms in times of joy and sorrow, celebration and grief. Join us Wednesdays from 10:00 to 11:00 am as we explore the book of Psalms. This class is scheduled to begin January 22, 2020.

That I May Know Him

The Christian Faith is more than knowing who Jesus is and what he did. The Christian Faith is a relationship with Jesus and with other Christians. This no-cost, no-obligation seven-week class gives participants Christian truth in language that "speaks to the heart." It's available by appointment with the pastor. Please call Pastor Purdue at (734) 834-0139 or email him at revguypurdue@yahoo.com to register, or for more information.
Our Pastor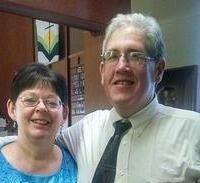 Guy Purdue was born and raised in Santa Monica, California.
He studied for pastoral ministry at Northwestern College in Watertown, Wisconsin, graduating in 1983, and continuing his studies at Wisconsin Lutheran Seminary, graduating in 1988.

Pastor Purdue served as a vicar (student intern) at St. Matthew's Lutheran Church in Benton Harbor, Michigan. During that year, he met Deborah Rach. Guy and Debbie were married in February, 1987. They have one child, Rachel.

Pastor Purdue has served at Redeemer Lutheran Church in Fond du Lac, Wisconsin; at Emanuel Lutheran Church in New London, Wisconsin; at St. Matthew Lutheran Church in Freeland, Michigan; and now at Our Saviour Lutheran Church in Westland, Michigan.

In addition to his local parish work, Pastor Purdue has served in a variety of offices on the circuit, conference and district levels. He is eager to meet you, and to tell you more about your Savior, Jesus Christ.
---
Contact
Have questions about religion? Looking for a church family? Maybe you just need someone to talk to? Pastor Guy Purdue and the members of Our Saviour are eager to help you on your spiritual journey.
33333 Warren Rd
Westland, MI 48185

(734) 834 - 0139

revguypurdue@yahoo.com